Athletic ability can help international students unlock a world class education in the U.S. Furthermore, high academic and rugby ability can potentially secure grants and scholarships to make this an affordable reality.
Elite Rugby Scholars combine an incredible education and life experience with the opportunity to play rugby at over 700 rugby playing US colleges & universities. Every year more programs gain varsity status and can offer scholarships or financial incentives to represent their school on the rugby pitch. Our service encompasses securing your child a US college, ensuring they arrive safely and are well looked after once on campus.
Let us work with you to find the universities and rugby programs that meet your academic, rugby and financial needs.
Why Choose Elite Rugby Scholars for Your Child
Tailored Guidance Through a Complex Process
Applying to colleges in the United States can be overwhelming, particularly for international students. At Elite Rugby Scholars, we understand the intricacies of this multifaceted journey and provide a bespoke service that supports players and families every step of the way. Our experienced team will lead, guide, and consult with you to ensure your child's academic, rugby, and financial needs are met
Leveraging Unmatched Expertise
With years of experience in securing placements and scholarships for rugby-playing students, our consultants possess unrivaled knowledge in the field. We are well-versed in the nuances of each rugby program, enabling us to save you valuable time and effort. By collaborating with Elite Rugby Scholars, you gain access to our wealth of expertise, increasing your child's chances of securing a top-tier education at a renowned U.S. college.
Building Lasting Relationships and Connections
At Elite Rugby Scholars, we have forged strong relationships with leading rugby programs and admissions counselors across the United States. We are committed to staying ahead of the curve, consistently engaging with emerging opportunities as new rugby programs arise. By partnering with us, you tap into our extensive network, providing your child with the advantage of accessing top-notch rugby teams at prestigious U.S. colleges.
The Journey
Embarking on the Elite Rugby Scholars journey involves a series of strategic steps designed to maximize your child's chances of success.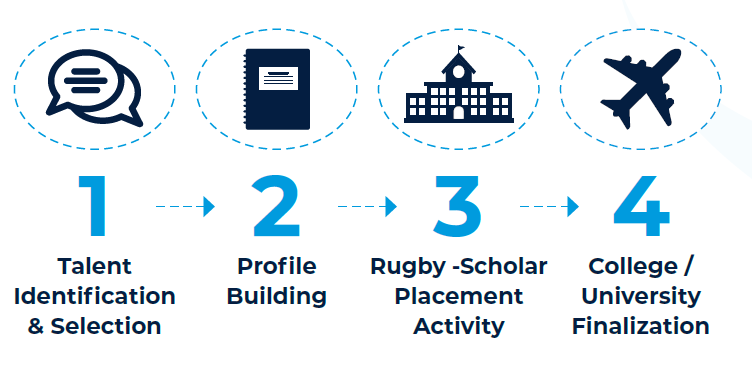 Comprehensive Curriculum
Nurturing All Aspects of Rugby for Parents
Academic Evaluation & Conversion
We provide thorough evaluation and conversion of your child's academic qualifications to ensure they meet the standards required by U.S. colleges.
GPA Analysis & Calculation
Our team performs an in-depth analysis of your child's Grade Point Average (GPA) and calculates it according to U.S. grading systems.
Client Training Guidance
We offer personalized training guidance to enhance your child's athletic performance and rugby skills, helping them reach their full potential.
Bespoke Fitness Plan
Our experts develop a tailored fitness plan to optimize your child's physical capabilities and improve their overall rugby performance.
Pre-Qualification of Athletic Eligibility
We assist in pre-qualifying your child's athletic eligibility, ensuring they meet the requirements set by organizations such as NCAA, NSCRO, and USA Rugby.
NCAA, NSCRO & USA Rugby Compliance Solutions
We understand the importance of complying with the regulations and guidelines set by organizations such as NCAA, NSCRO, and USA Rugby. Our team ensures that your child meets all the necessary eligibility requirements.
US College Coach & Admission Interview Guidance
We provide valuable guidance for college coach interactions and admission interviews, ensuring your child presents themselves effectively.
University Shortlisting
Our team assists in shortlisting universities that align with your child's academic, rugby, and financial preferences.
University Placement & Planning
We support your child throughout the university placement process, ensuring they find the best-fit institution for their educational and athletic aspirations.
University Visit Support **
We provide assistance and guidance when it comes to university visits, helping your child make informed decisions during this crucial stage.
University Admissions Assistance
Our experts offer comprehensive assistance with university admissions, ensuring your child's application stands out among the competition.
Video Support **
Our team assists in creating impactful videos that showcase your child's rugby skills and talents, helping them attract the attention of college recruiters.
Rugby Scholar Marketing & Promotion
We employ effective marketing and promotional strategies to increase your child's visibility among college coaches and recruiters, maximizing their chances of receiving scholarships and financial incentives.
Student Visa Assistance **
We provide guidance and support in navigating the student visa application process, ensuring a smooth transition for your child to study and play rugby in the United States.
ACT/SAT/TOEFL Test Preparation & Guidance **
We offer comprehensive preparation and guidance for standardized tests such as the ACT, SAT, and TOEFL, equipping your child with the necessary skills to excel academically.
Academic/Athletic Scholarship Search
Our team actively searches for academic and athletic scholarships that align with your child's qualifications and aspirations, increasing their chances of securing financial assistance.
Travel & Insurance Support **
We assist in coordinating travel arrangements and provide guidance regarding insurance coverage, ensuring your child's safety and well-being throughout their journey.
Final Stages & Incidental Task Support
We offer support during the final stages of the application process, handling any incidental tasks that may arise, and ensuring a smooth transition for your child.
ERS Legend Aftercare & Support
Our commitment to your child's success doesn't end with the application process. We provide ongoing aftercare and support, offering guidance and assistance throughout their college experience.
Service Fee can be discussed during our Consultation
**costs for these items are unfixed and outwith the service fee
Give your child a bright future.
If you are ready to discuss your child's future or gather more information, we invite you to contact us. Our dedicated team is here to provide personalized guidance and address any questions or concerns you may have. With Elite Rugby Scholars, you can rest assured that your child's journey to success begins with the best possible support and opportunities.