Testimonials
At Elite Rugby Scholars we appreciate that selecting the right U.S College to continue your academic and rugby career is a thorough process. While this can be done on your own we can add a lot of value and save a lot of time and stress to families throughout this time.
Our years of experience, market knowledge and college coach network allow us to deliver a 5-star service to our group of rugby scholars each year. It is therefore important to capture feedback and testimonials on each of our clients journeys which we are happy to display below.
Thanks to Brendan's wealth of knowledge and amazing connections, I met with a bunch of coaches, all with amazing programs. Before accepting my offer at the Queens University of Charlotte, where after one month, I can say is the best social, academic, and rugby environment that I have experienced so far. Brendan was professional throughout the whole experience and went above and beyond, ensuring that every meeting that I had, he followed up and asked me what I thought about the coach and the team, which felt like a tailored experience to me. I am truly grateful to Brendan for his services and my parents for allowing me to pursue Elite Rugby Scholars!
Leone Mattoli
A great service for anyone who is looking to bring their game into the US. Brendan is extremely well connected with coaches and staff from all across the US, he will also guide you along the way of your whole process of application which will make your life a whole lot easier! Overall a great agency to help you make your American rugby dream come true
Preston Kwok
I signed with Elite Rugby scholars to get the right help by my side to go to an American college. I couldn't have made a better decision. I had help along every step of the way and I ended up going to my first choice university, thank you Elite Rugby Scholars and specifically Brendan Mcgroarty.
Andreas Andersson
It was an absolute pleasure working with Brendan and the team from Elite Rugby Scholars. From the beginning Brendan was personally involved in getting a proper understanding of Zander's academic and rugby ambitions. It was really helpful to have him as a sounding board throughout the process of evaluating colleges and having the opportunity, through Elite Rugby Scholars, to speak to 10 coaches long before applications closed. Once the decision was made to go to Purdue University, Brendan kept on checking in and making sure we follow all the right processes to apply for the US student visa. From beginning to end Elite Rugby Scholars have been a pleasure to work with and will recommend them to anyone considering a rugby scholarship in the USA.
Hennie Visser
A fantastic experience where Brendan led us through the whole process from start to finish. He kept us informed and looked into different options like Canada. Even once my daughter had secured her University, he kept checking that we had our visa sorted and if we needed help with anything else. I would truly recommend Elite Rugby Scholars
Catrin Taylor
Truly amazing service. Mr McGroarty not only ensures that you find a competitive and successful environment to continue your rugby career but most importantly institutions that provide the best education. Elite Rugby Scholars ensures the best service in their communication, advise and transparency. I truly appreciate how the best service is not only provided through catering for your needs, but Mr McGroarty's ability in truly having your best interests at heart and seeing you succeed holistically as a person.
Reabetswe Seele
Working with Brendan for the last year has been nothing but professional and helpful. Thank you again for helping me get to a great university.
Max McCusker
The day my son told me he wanted to play rugby at a University in America I had little idea if it was possible let alone likely - yet here I sit on campus in New York State having just dropped my son off for his Freshman year at St Bonaventure - last year's National Champions.

Elite Rugby Scholars - particularly Brendan - turned my sons dream into reality. It's a complicated affair that Brendan simplifies - his expertise and contacts resulted in lots of contacts with coaches and narrowing it down to two solid offers. Brendan then helped Rohan make his final choice and here we are - at the beginning of a very real exciting adventure.

If you are considering this at all as a player or a parent give Elite Rugby Scholars a call and talk it through.
Peter Welsh
Brendan has a wealth of knowledge and contacts at Colleges in the US, we were provided advice and support throughout our son's application and interview stages before accepting a place at Lindenwood University in Missouri. I strongly recommend engaging Elite Rugby Scholars for expert advice in placing your young athlete abroad, sincerely.
Dan Cathcart
Positive:
Communication,
Professionalism,
Quality,
Value
"In August 2021, my son Cole, an accomplished prop player from Argentina, decided to pursue his undergraduate degree in the US at a university where he could play topflight rugby and study in an academically challenging school. We reached out to Brendan from Elite Rugby Scholars for help. In a short period of time, Brendan hooked us up with at least 12 top tier rugby coaches via Zoom, and this enabled us to differentiate the programs and academic offerings. The options are highly diverse and knowing the ins-and-outs of each program/school is crucial. Brendan is extremely personable, patient and dedicated, and I consider him now to be a family friend after my son's recent college application journey. Simply said, Brendan was with us every step of the way, and his knowledge of the application process and hands on assistance with complex international admissions issues were invaluable. Cole has just started as a January freshman and Business major at Penn State where he will play prop with PSU's highly ranked team. Overall, Brendan's contacts, advice and insight helped us to find the right fit for Cole, and I would recommend his Elite Rugby Scholars service wholeheartedly to any parent or aspiring rugby scholar who wants to navigate the complex process of finding the best undergraduate program and the right fit in terms of collegiate rugby. Brendan is truly awesome."
W Stoeppelwerth
Brendan was a real professional act and I definitely recommended this to any young player looking to continue playing and get a degree. Brendan got me in touch with some of the highest ranked rugby universities from all across the states and they were also fantastic schools with great staff who spoke to me with great interest and made it all very clear for me. I thought all the financial and immigration work would be confusing but Brendan made it an easy process all for me. Brilliant 👍.
A Kennedy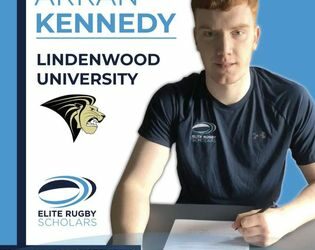 Elite Rugby Scholars made it really easy to find a great opportunity that suited my son's academic and rugby ambitions in the USA. Brendan supported him with information and advice every step of the way, used his many contacts to explore potential opportunities and helped him develop an exciting shortlist of options. In the end, a rugby opportunity kept him in the UK, but we wouldn't hesitate to be back in touch with Elite Rugby Scholars if the situation changes!
K Pearce
Positive:
Communication,
Professionalism,
Quality,
Value
"Brendan was instrumental in securing our son's place and scholarship at a leading US university. His experience and contacts were a great help and his understanding of the process was invaluable. His constant professional communication was very reassuring and I would highly recommend this service to any aspiring students."
D McQuade
Positive:
Communication,
Professionalism,
Quality,
Value
"Having never been through a process of sourcing a university in the US for my son who is a strong rugby player we were recommended Elite Rugby Scholars. No question was too daft and Brendan responded immediately to anything outstanding. Really helpful with what felt like complex visa applications particularly during Covid. We particularly found the opportunity of talking with scholars already in the US a game changer. From being slightly cynical at the start we wouldn't have done it any other way."
K Hagger
Positive:
Communication,
Professionalism
"Being a sceptic I was very guarded when my then 17 year old said 'mum I know a bloke who doesn't charge much but gets you a scholarship to play rugby in the US'! However I agreed to jump on a zoom call to find out more. Even then I did more research, searched companies house (lol) and took a few months to decide to proceed. In a nutshell my son moved to the US last week!
(Aug 21)
We could not have been happier! We had regular communications throughout the whole process, great connections to coaches and in the end had to choose which option to go with as we had quite a few choices. The guidance from Brendan throughout the application and visa process was professional and invaluable. He has even taken time out to talk to friends of mine and assist them without them being clients yet. Highly recommend Elite Rugby Scholars!"
S Skyrme
"Elite Rugby Scholars handled the whole process fantastically all the way through. Brendan guided us through a very complicated process professionally and kept us up to date with everything that we needed. Nothing was too much for him and he handled our sometimes silly questions with courtesy. A delight to work with and I would gladly recommend Elite to anybody."
S Conroy
"We can't recommend Brendan McGroarty Elite Rugby Scholars highly enough. Brendan paved the way and made the journey for us so easy to navigate. He was always available to answer questions and gave much needed guidance and assurances. He has a real affinity for the young players and does everything to help them in making what seems impossible dreams come true."
K Horton
"Just back from the airport where we said goodbye to our son Liam van Putten.
Today he flies to the US to join AState Rugby Red Wolves. With a lot of support by Brendan McGroarty @ Elite Rugby Scholars.
He worked with us during the whole process of connecting and selecting Universities and Colleges in the US where Liam can achieve his ambitions. His BA in History (possibly his MA also) and playing college rugby.
Very proud of Liam and grateful to ERS for their support! Without them, we would not have known how to start and manage this process."
P Van Putten
"Best decision I could have made for my rugby and academic career. Would highly recommend."
L Bonjean
Positive:
Communication,
Professionalism
"Elite Rugby Scholars handled the process very professionally with good and prompt communication at all times."
Q Gutmann
Positive:
Communication,
Professionalism,
Quality,
Value
"Thank you Brendan for your amazing support and help to get Eilidh to the USA and follow her dreams. You made the process so much easier and were always there if we were not sure what to do at each stage. From the initial interviews with Universities, to coaching and supporting Eilidh through her decision making process as well as giving me reassurance that my daughter moving to the other side of the world would be OK. Thank you again, it was a pleasure to work with you and worth every penny. I would recommend Elite Rugby Scholars as an agent to any aspiring young rugby player!"
S Faircliff
Positive:
Communication,
Professionalism,
Quality,
Value
"They have been professional, they were always there if I needed them and they helped me a lot.
Totally reliable."
T Lorenzetti
"We had a really positive experience working with Brendan and Elite Rugby Scholars. From start to finish, Brendan communicated regularly and gave really useful advice, helping to bring the process to a successful conclusion."
K Waddington
Positive:
Communication,
Professionalism,
Quality,
Value
"Great experience. They were always available for what I needed. I believe that Elite Rugby Scholars is a family and once you start the process, they make you feel as a family member."
A Rivas