Are you ready to pursue your passion for rugby while obtaining a top-notch education?
The Elite Rugby Scholars program offers a life-changing opportunity for students who aspire to excel in both academics and athletics. By combining the thrill of playing rugby at a prestigious American college with the pursuit of knowledge, you can set yourself apart from the crowd and embark on a journey that will shape your future. Discover how becoming an Elite Rugby Scholar can open doors to unparalleled experiences and personal growth.
Challenge yourself beyond what you thought you were capable of and change your life forever.
The Rising Popularity of Rugby in the United States
Witness the meteoric rise of rugby as a sport in the United States. With its rapid growth, college rugby has become highly competitive, attracting more than 700 universities participating in both men's and women's divisions.
The number of registered players has reached a staggering 35,000, surpassing the club numbers of many Tier 1 rugby nations. The popularity of rugby in the U.S. creates a vibrant and dynamic environment for aspiring rugby scholars to thrive.
The Demands and Rewards of Being a Rugby Scholar
Becoming a rugby scholar requires dedication and commitment. Balancing full-time studies with rigorous training sessions, gym workouts, and fixtures can be demanding. As a freshman, you'll be competing with players several years older than you, necessitating exceptional skills and determination to secure your position. Maintaining academic excellence while excelling on the field requires effective time management and unwavering effort.
The rewards, however, are immeasurable, as the experience molds you into a well-rounded individual capable of achieving greatness in all aspects of life.
Opportunities in U.S. College Rugby
The opportunities that await rugby scholars in U.S. college rugby are unprecedented. The men's game has reached new heights with the establishment of Major League Rugby (MLR), providing professional pathways for talented players. On the women's side, the sport has gained recognition under the NCAA emerging sport bracket.
Additionally, the implementation of "Title IX," ensuring equal funding for men's and women's college sports, has resulted in increased investments and scholarships for female rugby players. As an international rugby scholar, you can capitalize on these opportunities to take your game to the next level.
Transformative Experiences Await
Imagine immersing yourself in an entirely new culture, forging lifelong friendships with individuals from around the world, and experiencing personal growth like never before. As a rugby scholar in the U.S., you have the chance to not only thrive in an academic setting but also travel across the country, compete in national finals, and play in prestigious tournaments. These experiences will broaden your horizons, instill resilience, and shape your character, leaving an indelible mark on your life's trajectory.
The Journey
Do you possess the qualities necessary to become an elite rugby scholar? The path to greatness is not an easy one, but the rewards are unparalleled. This opportunity allows you to combine your passion for rugby with academic excellence, creating a platform for personal and professional growth. Embrace the challenge, seize the chance to transform your life, and embark on an extraordinary journey as an Elite Rugby Scholar.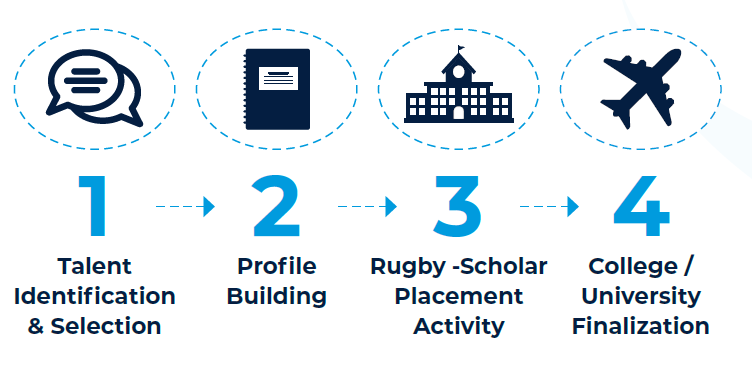 Do you have what it takes to be an Elite Rugby Scholar?
Becoming an Elite Rugby Scholar is an extraordinary opportunity that can change your life forever. With the rising popularity of rugby in the United States, the demanding yet rewarding nature of being a rugby scholar, the countless opportunities available, and the transformative experiences that await, you can truly carve out a unique path for yourself. Embrace the challenge, push your boundaries, and become a part of the elite group of individuals who have turned their dreams into reality through the Elite Rugby Scholars program. Apply now and set yourself on a course towards greatness in both rugby and academics.